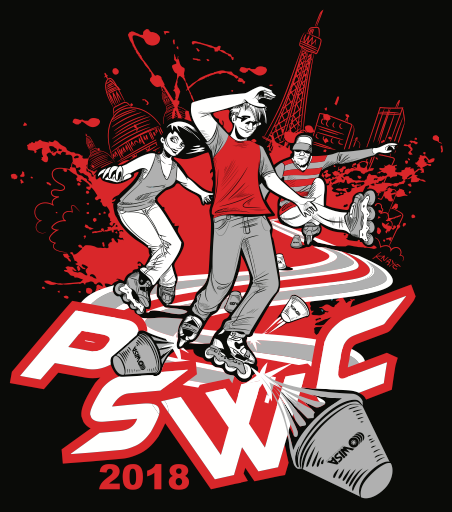 BIENVENUE à LA PSWC 2018 !! 23-26 AOUT 2018
WELCOME TO PSWC 2018 !! 23-26 AUGUST 2018
REGISTRATION IS OPEN, IF YOU HAVE ANY REQUEST FOR INVITATION PLEASE SEND E-MAIL to wsseries@gmail.com
LES INSCRIPTIONS SONT OUVERTES, POUR TOUTE DEMANDE D'INVITATION, MERCI DE VOUS ADRESSER à wsseries@gmail.com
REGISTRATION FEES / FRAIS D'INSCRIPTION :

SLIDES ONLY : 15 €
JUMP ONLY : 15 €
PACK 1 DISCIPLINE : BATTLE OR SPEED OR CLASSIC : 30 €
PACK 2 DISCIPLINES : BATTLE & SPEED, CLASSIC & SPEED, BATTLE & CLASSIC (PAIR FREESTYLE and TEAM SPEED SLALOM for free) : 40 €
PACK 3 CONTESTS : BATTLE & SPEED & CLASSIC (SLIDES, JUMP, TEAM SPEED & PAIR FREESTYLE for Free) : 45 €
PACK SPEED + JUMPS / SPEED + SLIDES (TEAM SPEED SLALOM for free): 40 € 
PACK BATTLE + CLASSIC + SLIDES + JUMPS : 45 € 
PACK SPEED + FREERIDE : SPEED & SLIDES & JUMP (TEAM SPEED SLALOM for free): 40 € 
PACK FREERIDE : SLIDES & JUMP : 20 €

YOUR REGISTRATION WILL BE VALIDATED ONLY AFTER YOUR PAYMENT
Attention, places are limited, hurry up to register!!!
Registration deadline : August 13th
Payment deadline : August 20th
Music deadline for Classic : August 20th. If not respected : 10 points penalty for Classic. (Check WSSA Ruleset 2018).
Juniors are born between Jan.1, 2002 and 31st December 2008; Seniors are born before 31st December 2001

VOTRE INSCRIPTION NE SERA VALIDEE QU'APRES VOTRE PAIEMENT REÇU
Attention, les places sont limitées, n'attendez pas pour vous inscrire!
Date limite d'inscription : 13 Aout

Date limite de paiement : 20 Aout
Date limite pour l'envoi des musiques de Classique : 20 Aout. Si dépassée, 10 points de pénalité seront attribués pour le Classic. 
(Voir  WSSA Ruleset 2018).
Once you filled in and sent the registration form, you will receive a confirmation email including the payment information. 
Une fois le formulaire d'inscription rempli et envoyé, vous recevrez un email de confirmation avec les informations nécessaires au paiement. 
Team Speed Slalom Rules
Each team is formed by 3 skaters.
Only one category.
The teams can be mixed (junior - senior - male - female).
The individual qualifications are also qualifications for team speed slalom
The best time of each skater of one team will be added to have a team qualification time.
The heats are made according to Speed slalom rules.
The sport rules are same as Speed Slalom.
Specific rules for Team Speed Slalom :
Each member of each team will have ONE run against each member of the other team.
1 victory = 1 point for the team
The first team to reach 5 points will be qualified for the next round.
The round is over when a team reach 5 points.
Règles du Speed Slalom par équipes :
Chaque équipe est formée de 3 patineurs.

Une seule et unique catégorie.
Les équipes peuvent être mixtes (Junior - Senior - Homme - Femme)
Les qualifications individuelles servent également de qualification pour le Team Speed Slalom.
Le meilleur temps de chaque rider d'une même équipe seront additionnés pour obtenir le temps de qualification de l'équipe.
Les groupes sont formés selon les règles du speed slalom.
Règles spécifiques au Team Speed Slalom :
Chaque membre de chaque équipe rencontre chaque membre de l'équipe opposée avec un seul et unique run.
1 victoire = 1 point pour l'équipe
La première équipe qui atteint 5 points sera qualifiée pour le tour suivant.
Le round est terminé lorsqu'une des deux équipes atteint 5 points.
COMPETITION VENUE :

GYMNASE LA PLAINE, 13 RUE DU GENERAL GUILLAUMAT 75015 PARIS, FRANCE
ITINERARY :
THE CLOSEST METRO STATIONS ARE
"PORTE DE VANVES" (Line 13)
"PORTE DE VERSAILLES" (Line 12)

THE CLOSEST TRAMWAY STATION IS "GEORGES BRASSENS" (Line T3a)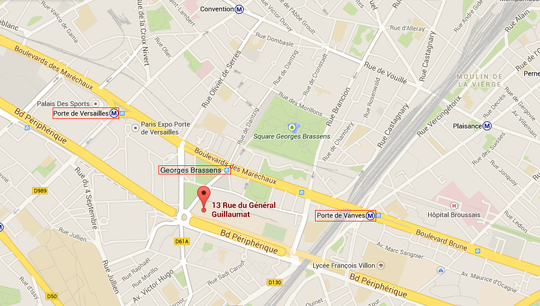 FROM AIRPORT to competition venue :

From Roissy Charles De Gaulle Airport (CDG) : 
BY TRAIN : Take the train "RER" B direction Paris, stop at "Cité Universitaire" then go out of the station and take the Tramway T3 direction "Pont du Garigliano" and stop at "Georges Brassens" station.
The ticket costs 10 Euros from CDG to any metro station inside Paris. Keep your ticket with you as you will need it to access the tracks and to go out.

BY BUS : Take the "RoissyBus" which will take you to "Place de l'opéra", then take the metro at "Opéra" station, line 8 direction "Balard". Go out at "Balard" and take the tramway T3 direction "Porte d'Ivry" and stop at "Georges Brassens" station. The ticket costs 12 Euros.

or take "Les Cars Air France" to Paris "Montparnasse" then take the métro line 12 direction "Mairie D'Issy" and go out at "Porte de Versailles". The ticket costs 17 Euros.

BY TAXI : Don't take Taxi in Paris unless you are very rich, the price can go from 80 Euros to few hundreds of Euros if the Taxi cheats you or if you are stuck in the traffic jam.

From Orly Airport (ORY) :

The only option is the bus : Take the Orlybus to "Denfert Rochereau". Then take the metro line 4 direction "Porte d'Orléans", go out at "Porte d'Orléans" and take the Tramway T3 direction "Pont du Garigliano" and stop at "Georges Brassens" station. The ticket costs 7,50 Euros.

JUNIOR WOMEN
 
 
 
 
 
 
 
 
 
 
 
 
 
 
 
 
 
 
No.
Name
Ctry
Speed
Classic
Battle
Slides
Jump
Speed Team
Pair
1
Vaudeville-Ondet Jeanne
FRA
X
X
X
 
 
 
 
2
Brzezinska Zofia
POL
X
X
X
 
 
 
X
3
Romano Sveva
ITA
X
X
X
 
 
X
 
4
Pettinari Francesca
ITA
X
X
X
 
 
 
 
5
Komissarova Yulia
RUS
 
X
X
 
 
 
 
6
De Tomasi Sara
ITA
X
X
X
 
 
 
 
7
Lean Alice
GBR
X
X
X
 
 
 
 
8
Llorente Gracia Nerea
ESP
 
X
X
X
 
 
 
9
Romanos Blasco Patricia
ESP
 
X
X
 
 
 
 
10
Peix Del Rio Ana
ESP
X
 
 
 
X
 
 
11
Bogdanova Sofia
RUS
 
X
X
 
 
 
 
12
Guerra Maddalena
SMR
 
 
 
X
 
 
 
13
Di Dio Giorgia
ITA
X
X
X
X
 
 
 
14
Lebedeva Arina
RUS
X
 
 
 
 
 
 
15
Maritchak Victoria
UKR
X
X
X
X
 
 
 
16
Pasqualini Sara
ITA
X
 
 
 
 
 
 
17
Arosio Matilde
ITA
X
X
X
 
X
X
 
18
Navasardyan Veronika
RUS
X
X
X
 
 
 
 
19
Torokhova Elizaveta
RUS
 
X
X
 
 
 
 
20
Tomatis Alice
ITA
X
X
X
X
 
X
X
21
Pavanello Michela
ITA
 
 
 
 
X
 
 
22
Smirnova Anna
RUS
X
X
X
 
 
 
X
23
Extremiana Izquierdo Natalia
ESP
X
X
X
 
 
 
 
24
Crippa Arianna
ITA
X
X
X
 
X
X
 
25
Jagielska Karolina
POL
X
X
X
 
 
 
 
26
Ranjbar Vakili Ariana
AUT
X
 
 
 
 
 
 
27
Xiao Bing Juan
TPE
X
 
 
 
 
X
 
28
Skubis Marta
POL
 
X
X
 
 
 
 
29
Guslandi Ilaria
ITA
 
X
X
 
 
 
 
30
Grigorieva Ekaterina
RUS
X
X
X
 
 
 
 
31
Grigorieva Ksenia
RUS
X
X
X
 
 
 
 
32
Amiand Sephora
FRA
X
X
X
 
 
 
 
33
Landrin Zoe
FRA
X
X
X
 
 
 
 
34
Adamska Pola
POL
X
X
X
 
 
 
 
35
Adamska Zofia
POL
X
X
X
 
 
 
 
 
 
 
 
 
 
 
 
 
 
 
 
 
 
 
 
 
 
 
 
JUNIOR MEN
 
 
 
 
 
 
 
 
 
 
 
 
 
 
 
 
 
 
No.
Name
Ctry
Speed
Classic
Battle
Slides
Jump
Speed Team
Pair
1
Medda Filippo
ITA
X
 
 
X
 
 
 
2
Rizzoli Riccardo
ITA
 
X
X
 
 
 
 
3
Isman Tommaso
ITA
X
 
 
 
X
X
 
4
Caro Tello Alex
ESP
 
X
X
X
 
 
 
5
Galbiati Stefano
ITA
X
 
 
 
X
 
 
6
Griveau Nicolas
FRA
X
X
X
 
 
 
 
7
Nicotra Mattia
ITA
X
X
X
 
 
 
 
8
Vietti Federico
ITA
X
X
X
X
 
X
X
9
Pulcini Piercarlo
ITA
X
 
X
 
 
 
 
10
De Galassus Titouan
FRA
 
X
X
 
 
 
 
11
Confalonieri Samuele
ITA
X
 
X
X
 
X
 
12
Le Matoc'h Martin
FRA
 
X
X
 
 
 
 
13
Chang Wei Jen
TPE
X
X
X
 
 
X
 
14
Chou Po Wei
TPE
X
X
X
 
 
X
 
15
Dayries Ethan
FRA
X
 
 
 
 
 
 
16
Dayries Liam
FRA
X
 
 
 
 
 
 
17
Bouquet Noah
FRA
X
X
X
 
 
X
 
18
Galvan Adrian
ESP
 
 
 
X
X
 
 
19
Cosentino Alessandro
ITA
X
 
 
 
 
 
 
20
Ndiaye Khalil Sore
SEN
X
 
X
 
 
 
 
21
Menard Remy
FRA
X
X
X
 
 
 
 
22
Pujadas Alex
ESP
X
X
X
 
 
 
 
23
Deniaud Ethan
FRA
X
X
X
 
 
 
 
 
 
 
 
 
 
 
 
 
 
 
 
 
 
 
 
 
 
 
 
SENIOR WOMEN
 
 
 
 
 
 
 
 
 
 
 
 
 
 
 
 
 
 
No.
Name
Ctry
Speed
Classic
Battle
Slides
Jump
Speed Team
Pair
1
Hartmanis Klaudia
POL
 
X
X
 
 
 
X
2
Pavanello Giorgia
ITA
X
 
 
 
X
 
 
3
Krykova Natalia
RUS
 
 
 
X
X
 
 
4
Berti Gomathi
ITA
X
 
 
 
 
 
 
5
Irizbaeva Polina
RUS
 
X
X
 
 
 
 
6
Konyukhova Daria
RUS
 
X
X
 
 
 
X
7
Paoli Elisa
ITA
X
 
 
 
X
X
 
8
Zapuskalova Nadezhda
RUS
 
X
X
 
 
 
 
9
Zhu Muyuan
ESP
X
 
 
X
X
 
 
10
Orini Martina
ITA
X
X
X
 
 
X
 
11
Fokina Olga
RUS
 
 
 
X
 
 
 
12
Granjon Zoé
FRA
X
X
X
 
 
X
 
13
Granjon Lily
FRA
X
 
X
 
 
X
 
14
Sanchez Fernandez Sara
ESP
X
X
X
X
 
 
 
15
Ushakova Stepanova Svetlana
BLR
X
X
X
 
 
 
 
16
La Volpe Laura
ITA
X
X
X
 
 
X
 
17
Chiu Yin-Hsuan
TPE
X
X
X
 
 
X
 
18
Wang Jia Wei
TPE
X
 
 
 
 
X
 
19
Bouquet Alix
FRA
X
X
X
 
 
X
 
20
Radulescu Thea Dora
GRE
X
X
X
 
 
 
 
21
Maslowa Vasilisa
BLR
 
X
X
 
 
 
 
22
Autin Bettina
FRA
X
 
 
 
 
 
 
23
Moreno Laurine
FRA
X
 
 
 
 
X
 
24
Garcia Patino Alba
ESP
 
X
X
 
 
 
 
25
Kuznetsova Daria
RUS
 
X
X
 
 
 
 
26
Poussier Maelie
FRA
X
 
 
 
 
 
 
27
Conan Maeliss
FRA
 
 
 
 
X
 
 
28
Hotsko Bohdana
UKR
 
 
 
X
 
 
 
29
Blagoeva Velislava
BUL
 
 
X
 
 
 
 
30
Abraham Fernandez Laura
ESP
 
 
 
X
 
 
 
31
Czapla Justyna
POL
X
X
X
 
 
X
 
 
 
 
 
 
 
 
 
 
 
 
 
 
 
 
 
 
 
 
 
SENIOR MEN
 
 
 
 
 
 
 
 
 
 
 
 
 
 
 
 
 
 
No.
Name
Ctry
Speed
Classic
Battle
Slides
Jump
Speed Team
Pair
1
Degli Agostini Valerio
ITA
X
X
X
 
 
X
X
2
Degli Agostini Lorenzo
ITA
X
X
X
 
 
 
 
3
Santoni Nicolhas Yuki
ITA
X
X
X
 
 
X
X
4
Vanucci Nicolas
ITA
X
X
X
 
 
 
X
5
Guslandi Lorenzo
ITA
X
X
X
 
 
X
X
6
Volkov Leonid
RUS
 
 
 
X
 
 
 
7
Nunez-Cacho Catalan Javier
ESP
 
 
 
X
 
 
 
8
Giovanelli Michele
SMR
 
 
 
X
 
 
 
9
Pavanello Francesco
ITA
X
 
 
 
 
 
 
10
San Honorio Calabuig Abel
ESP
X
 
 
X
X
 
 
11
Guirao Carlos
ESP
 
X
X
 
 
 
 
12
Karpis George
GRE
X
X
 
 
 
 
 
13
Gutierrez Gerard
ESP
 
X
X
 
 
 
 
14
Dame Fall
SEN
 
 
 
 
X
 
 
15
Kullap Erki
EST
X
 
 
 
 
 
 
16
Torres Serrano Santiago
ESP
 
 
 
X
 
 
 
17
Rubio Enrique
ESP
 
 
 
X
 
 
 
18
Canero Gomez Alejandro
ESP
X
 
 
 
 
X
 
19
Mosolov Anton
RUS
 
 
 
X
X
 
 
20
Rutard Marius
FRA
 
X
X
 
 
 
 
21
Nelson Carlos
ESP
X
X
X
X
 
 
 
22
Lissoni Alessandro
ITA
X
X
X
 
 
X
 
23
Rosato Gian Marco
ITA
X
 
 
 
 
X
 
24
Pallazzi Matteo
ITA
X
 
 
 
X
X
 
25
Kanygin Andrey
UKR
 
 
 
X
 
 
 
26
Demuru Lorenzo
ITA
X
X
X
 
X
X
 
27
Ranjbar Vakili Pedram
AUT
X
 
 
 
 
 
 
28
Xiao Bing-Sheng
TPE
X
 
 
 
 
X
 
29
Martinez Cordoba Juan Ignacio
ESP
 
 
 
X
X
 
 
30
Garcia Brais
ESP
 
 
 
X
 
 
 
31
Rezende Igor
BRA
X
X
X
X
 
X
 
32
Rezende Borges Matheus
BRA
X
 
 
X
 
X
 
33
Rezende Borges Plinio Marcos
BRA
X
 
X
 
 
X
 
34
Sena Inclan Nikolay
ESP
 
X
X
 
 
 
 
35
La Volpe Enrico
ITA
X
X
X
 
X
X
 
36
Shulgan Alexander
BLR
X
X
X
 
 
 
 
37
Flaga Jakub
POL
 
 
 
 
X
 
 
38
Nuñez-Cacho Fuentes Javier
ESP
 
 
 
X
 
 
 
39
Belev Emil
BUL
X
 
X
 
 
 
 
40
Morales Chinchilla Ignacio
ESP
X
 
 
X
 
 
 
41
Chou Ci You
TPE
X
X
 
 
 
 
 
42
Bosch Coll Pau
ESP
 
X
X
 
 
 
 
43
Ramos Adrian
ESP
 
X
X
 
 
 
 
44
Moreno Benjamin
FRA
X
 
 
 
 
X
 
45
Duma Sandor
HUN
X
 
X
 
 
 
 
46
Garcia Christian
ESP
 
X
X
 
 
 
 
47
Du Peloux Flavien
FRA
 
 
 
 
X
 
 
48
Menard Nathan
FRA
 
X
X
 
 
 
 
49
Fort Jimmy
FRA
X
 
 
 
 
X
 
50
Nicolao Ambroise
FRA
 
X
X
X
 
 
 
Povisory Schedule / Programme provisoire
Subject to change / Sujet à changement