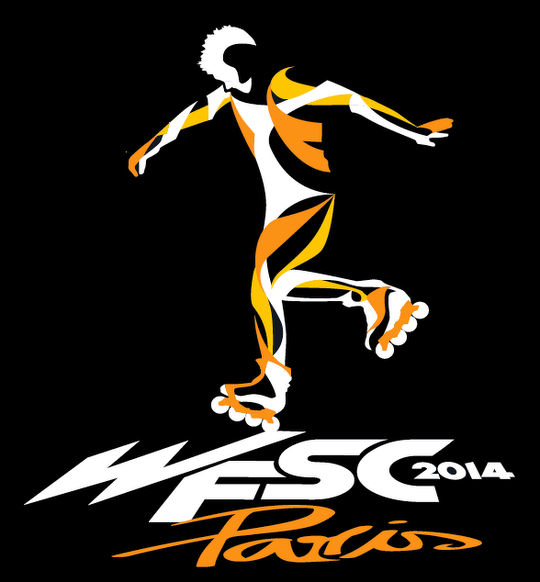 WORLD FREESTYLE SKATING CHAMPIONSHIPS 2014 - PARIS - FRANCE
22-26th OCTOBER 2014

COMPETITION VENUE :

GYMNASE LA PLAINE, 13 RUE DU GENERAL GUILLAUMAT 75015 PARIS, FRANCE
ITINERARY :
THE CLOSEST METRO STATIONS ARE
"PORTE DE VANVES" (Line 13)
"PORTE DE VERSAILLES" (Line 12)

THE CLOSEST TRAMWAY STATION IS "GEORGES BRASSENS" (Line T3a)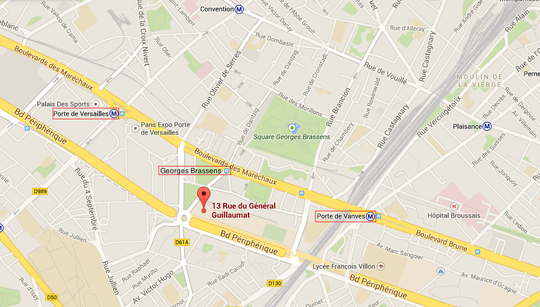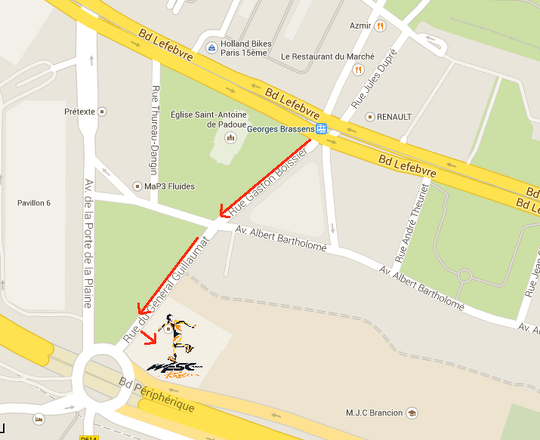 FROM AIRPORT to competition venue :

From Roissy Charles De Gaulle Airport (CDG) : 
BY TRAIN : Take the train "RER" B direction Paris, stop at "Cité Universitaire" then go out of the station and take the Tramway T3 direction "Pont du Garigliano" and stop at "Georges Brassens" station.
The ticket costs 10 Euros from CDG to any metro station inside Paris. Keep your ticket with you as you will need it to access the tracks and to go out.

BY BUS : Take the "RoissyBus" which will take you to "Place de l'opéra", then take the metro at "Opéra" station, line 8 direction "Balard". Go out at "Balard" and take the tramway T3 direction "Porte d'Ivry" and stop at "Georges Brassens" station. The ticket costs 12 Euros.

or take "Les Cars Air France" to Paris "Montparnasse" then take the métro line 12 direction "Mairie D'Issy" and go out at "Porte de Versailles". The ticket costs 17 Euros.

BY TAXI : Don't take Taxi in Paris unless you are very rich, the price can go from 80 Euros to few hundreds of Euros if the Taxi cheats you or if you are stuck in the traffic jam.

From Orly Airport (ORY) :

The only option is the bus : Take the Orlybus to "Denfert Rochereau". Then take the metro line 4 direction "Porte d'Orléans", go out at "Porte d'Orléans" and take the Tramway T3 direction "Pont du Garigliano" and stop at "Georges Brassens" station. The ticket costs 7,50 Euros.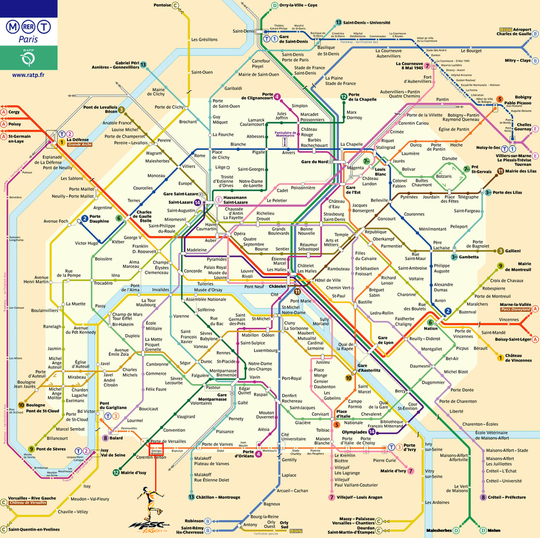 RECOMMENDATIONS :

Here are few safety recommendations to take care during your stay in Paris :

Paris is one of the most touristic destination in the world, that means there are a lot of tourists, but also a lot of PICKPOCKETS. Always take care of your personnal belongings, and check who is around you, keep an eye on your friends' clothes and bags as well. Always keep a physical contact with your bags and luggage, don't trust people who come to you to help you or asking you questions. Don't put your money, cellphone, passport in the external pockets of your backpacks.
Don't carry a lot of money with you, don't show your money publicly,  don't take your money out of your wallet in the street or in the public transports.
Don't use your smartphone in the street or in public transports before making sure it is safe around you. Look around you often to check who is around when you use your smartphone or open your wallet.
Don't buy tickets or anything from people, always buy at official desks or vending machines.
REGISTRATION
Registration fee : 40 Euros
Free Jump Open only : 15 Euros

FINAL REGISTRATION MUST BE SUBMITTED BEFORE 30/09/2014 to wsseries@gmail.com
MUSIC FOR CLASSIC & PAIR SLALOM MUST BE MP3 FILE AND BE SUBMITTED TO wsseries@gmail.com BEFORE 12 OCTOBER 2014
ORGANIZER RESERVES THE RIGHT NOT TO ACCEPT The MUSIC FILE IF NOT APPROPRIATE OR WRONG FORMAT
ORGANIZER RESERVES THE RIGHT NOT TO ACCEPT THE ENTRY FORM IF THE INFORMATION IS NOT FULLY COMPLETED
REGISTRATION FORM WFSC 2014
Registration Form WFSC Paris 2014.xlsx
Microsoft Excel Table
275.2 KB
RULES
The latest WSSA 2014 rules will be used for this event, you can download the rules here.
If additionnal rules to be added, or specified details, all delegations will be informed during the team leader meeting on the 22nd October.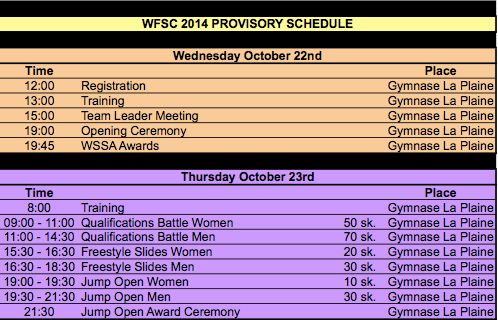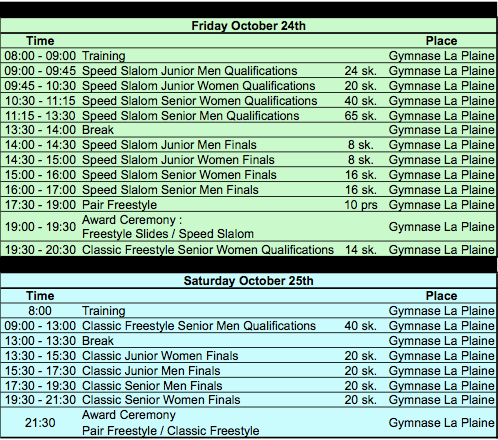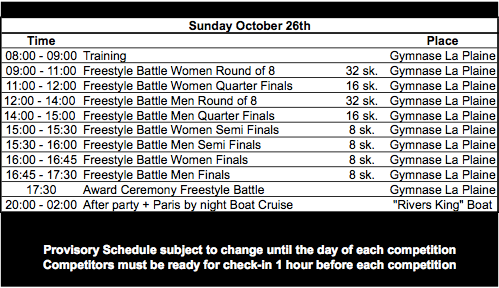 Provisory Schedule subject to change until the day of each competition
CONTACT
For questions and enquiries about the WFSC, please contact WFSC PARIS 2014's organisation committee manager. Mr Igor Cheremetieff : frenchseries@gmail.com

PARTNERS
Thanks to all partners and sponsors who support our organisation !

ASSOCIATIONS :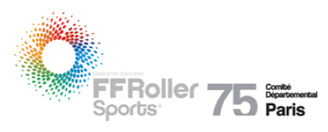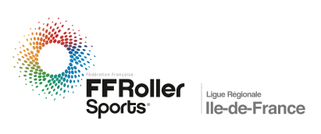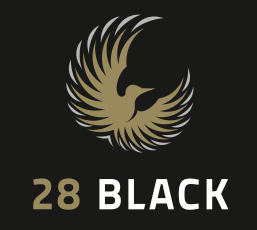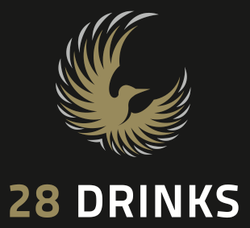 SENIOR WOMEN
No.
Name 
Ctry
Speed
Classic
Battle
Slides
Jump
Pair 
1
Koldal Linda
NOR
X
X
X
 
 
 
2
Koroleva Yulia
RUS
 
 
 
X
 
 
3
Pashkova Valentina
RUS
X
 
 
 
X
 
4
Fokina Olga
RUS
X
 
 
X
 
 
5
Kuznetsova Daria
RUS
X
X
X
 
 
 
6
Krykova Natalia
RUS
X
 
 
X
X
 
7
Dubinchik Ksenia
RUS
 
X
X
 
 
 
8
Zenkova Anastasia
RUS
X
X
X
 
 
 
9
Lysenko Kristina
RUS
X
 
 
 
 
 
10
Lualdi Chiara
ITA
X
X
X
X
 
 
11
Bossi Barbara
ITA
X
X
X
 
 
 
12
Codazzi Barbara
ITA
X
X
X
 
 
 
13
Rotunno Cristina
ITA
X
X
X
 
 
 
14
Komarchuk Ksenia
UKR
X
X
X
 
 
 
15
Boiko Maryna
UKR
X
X
X
 
 
 
16
Boiko Margaryta
UKR
X
X
X
X
 
 
17
Czapla Paulina 
POL
X
X
X
X
 
 
18
Czapla Ewelina
POL
X
X
X
X
X
 
19
Prucnal Angelika 
POL
X
X
X
X
X
 
20
Hartmanis Klaudia
POL
X
X
X
 
 
X
21
Ziertmann Anya
GER
X
X
X
 
 
 
22
Lim Carlyle
MAS
X
 
 
X
 
 
23
Blagoeva Velislava
BUL
X
 
X
 
 
 
24
Derisbourg Tiffany
FRA
X
 
 
 
 
 
25
Granjon Zoe
FRA
X
X
X
 
 
 
26
Pham Van Hué Salomé
FRA
 
X
X
 
 
 
27
Lacko-Bartošová Lucia
SVK
X
X
X
 
 
 
28
Wang Tzu Chien 
TPE
X
 
 
 
 
 
29
Yang Jhih Chi 
TPE
X
 
 
 
 
 
30
McKenzie Laura
GBR
X
X
X
 
 
 
31
Peters Chelsie
GBR
X
X
X
 
 
 
32
Ujuk Natalie
AUS
 
X
X
 
 
 
33
Fatmi García Miriam 
WSSA
X
X
X
X
 
 
34
Hotsko Bohdana 
WSSA
X
X
X
X
X
 
35
Arabi Laya
IRI
X
 
 
 
 
 
36
Florian Baca Francesca Valeria 
PER
 
X
X
 
 
 
37
Cochey-Cahuzac Eva
FRA
X
X
X
 
 
 
38
Chaubard Perrine
FRA
X
 
 
 
 
 
39
Escriva Marie
FRA
X
 
 
 
 
 
40
Jimenez Bello Alexandra
COL
X
X
X
 
 
 
41
Dubernet Mallaury
FRA
 
 
 
 
X
 
42
De Sensi Federica
WSSA
X
X
X
 
 
 
43
Conan Maëliss
FRA
 
 
 
 
X
 
44
Su FeiQian
CHN
X
X
X
 
 
 
45
Yang YiXuan
CHN
 
 
 
X
 
 
 
 
 
 
 
 
 
 
 
 
 
 
 
 
 
 
 
 
JUNIOR WOMEN
No.
Name 
Ctry
Speed
Classic
Battle
Slides
Jump
Pair 
1
Malakhova Anastasia
RUS
X
X
X
 
 
 
2
Bogdanova Sofia
RUS
X
X
X
 
 
 
3
Bamatter-Rodriguez Olga
RUS
X
X
X
 
 
 
4
Bouquet Alix
FRA
X
X
X
 
 
 
5
Puricelli Chiara
ITA
X
X
X
X
 
 
6
Morbidoni Camilla
ITA
X
X
X
 
 
 
7
Czapla Justyna
POL
X
X
X
X
X
 
8
Navratilova Hana 
CZE
X
X
X
 
 
 
9
Arbona Chloé
FRA
X
X
X
 
 
 
10
Granjon Lily
FRA
X
X
X
 
 
 
11
García Patiño Alba 
ESP
 
X
X
 
 
 
12
Moreno Hauvel Laurine 
ESP
X
 
 
 
 
 
13
Chiu Yin Hsuan 
TPE
X
X
X
 
 
X
14
Lin Hsin Chieh 
TPE
X
X
X
 
 
X
15
Lo Pei Yu 
TPE
X
 
 
 
 
 
16
Su Yu Jou 
TPE
X
 
 
 
 
 
17
Oguey Maud 
FRA
X
X
X
 
X
 
18
Mokeeva Elena
GER
 
X
X
 
 
 
19
Feng Hui
CHN
X
X
X
 
 
 
20
Guan YuXiang
CHN
X
X
X
 
 
 
21
 Lu QianQian
CHN
X
 
 
 
 
 
22
Sherry Isabella
USA
X
X
X
 
 
 
 
 
 
 
 
 
 
 
 
 
 
 
 
 
 
 
 
 
SENIOR MEN
No.
Name 
Ctry
Speed
Classic
Battle
Slides
Jump
Pair 
1
Shevarutin Dmitry
RUS
X
X
X
 
 
 
2
Tsokolov Alexey
RUS
X
X
X
X
 
 
3
Lamtsov Denis
RUS
 
 
 
X
 
 
4
Shirobokov Denis
RUS
X
 
 
X
 
 
5
Ryazantsev Kirill
RUS
X
 
 
X
X
 
6
Timchenko Sergey
RUS
X
X
X
 
 
X
7
Timchenko Alexander
RUS
X
X
X
 
 
X
8
Shitov Andrey
RUS
X
 
X
 
 
 
9
Tyagur Timofey
RUS
 
X
X
 
 
 
10
Jin Seong Yu
KOR
X
X
X
 
 
X
11
Choong Goon Lee
KOR
X
X
X
 
 
X
12
Jung Hyun Lee
KOR
X
X
X
 
 
 
13
Cobo Gonzalo
ARG
X
X
X
 
X
 
14
Amoroso Mariano
ARG
X
X
X
 
 
 
15
Piacentini Davide
ITA
X
 
 
 
 
 
16
Brivio Savio
ITA
X
 
X
 
 
 
17
Sordi Enrico
ITA
X
 
 
 
X
 
18
Nai Oleari Simone
ITA
X
 
 
 
 
 
19
Ferrari Tiziano
ITA
X
X
X
 
 
X
20
Guslandi Lorenzo
ITA
X
X
X
 
 
X
21
Quiriconi Nicolas
ITA
 
X
X
 
 
X
22
Rotunno Andrea
ITA
 
X
X
 
 
X
23
Martsenyuk Victor
UKR
 
 
 
X
 
 
24
Martsenyuk Aleksey
UKR
 
 
 
X
 
 
25
Sulinowski Michal
POL
X
X
X
 
 
X
26
Motyka Kamil
POL
X
X
X
X
X
 
27
Gruszka Patryk
POL
X
X
X
X
X
 
28
Jaworski Dawid
POL
X
X
X
X
 
 
29
Pour Tomas
CZE
X
X
X
X
 
 
30
Jaehnert Hannes 
GER
X
X
X
 
 
 
31
Del Marmol Alexandre
BEL
 
X
X
 
X
 
32
Morgado Rodrigo
BRA
X
X
X
 
 
 
33
Fialkovics Victor
BRA
X
X
X
X
 
 
34
Araujo Diego
BRA
X
 
 
 
 
 
35
Belev Emil
BUL
X
 
X
 
 
 
36
Kullap Erki
EST
X
 
 
 
 
 
37
Claris Alexandre
FRA
X
X
X
X
 
 
38
Fort Jimmy
FRA
X
 
 
 
 
 
39
Fort Yohan
FRA
X
 
 
 
 
 
40
Lebois Romain
FRA
X
X
X
 
 
 
41
Thierry Teddy
FRA
 
X
X
 
 
 
42
Guillou Hervé
FRA
X
X
X
 
 
 
43
Brezník Pavel
SVK
X
X
X
 
X
 
44
Castro Zamora Antonio
ESP
 
X
X
X
 
 
45
Kraski Cieslak Víctor 
ESP
X
X
X
 
X
 
46
Moreno Hauvel Benjamín 
ESP
X
 
 
 
 
 
47
Nelson Caro Carlos 
ESP
 
X
X
X
 
 
48
Rayer Alan
FRA
X
X
 
 
 
 
49
Shulgan Alexander
BLR
X
X
X
 
 
 
50
Matyuk Alexander
BLR
 
X
X
 
 
 
51
Sohrab Samsam Shariat
WSSA
X
X
X
 
 
 
52
Fantuz Alexandre
FRA
 
 
 
 
X
 
53
Colombani Jonathan 
SUI
X
 
 
 
 
 
54
Chung Yung Tzu 
TPE
X
 
 
X
 
 
55
Hsieh Mu Lun 
TPE
X
X
X
 
 
 
56
Yang Hsin Chiao 
TPE
X
 
 
 
 
 
57
Wang Jung Pin 
TPE
X
 
 
 
 
 
58
Wu Dong Yan 
TPE
X
 
 
 
 
 
59
Rahim Issy
GBR
 
X
X
 
 
 
60
Rezende Borges Matheus 
WSSA
X
X
X
X
 
 
61
Rezende Borges Plinio Marcos 
WSSA
X
X
X
 
 
 
62
García Fernández Brais 
WSSA
X
 
 
X
X
 
63
Zyborowicz Krzysztof
POL
X
X
X
 
 
 
64
Bátiz López Ricardo
MEX
X
X
X
 
X
 
65
Mohammadhossein Monsef
IRI
X
 
 
 
 
 
66
Du Peloux Flavien 
FRA
X
 
 
 
X
 
67
Huerta Raul
CHI
X
X
X
 
 
 
68
Chalot Ken 
FRA
 
X
 
 
 
 
69
Vitery Ramos Vladimir Ronald  
COL
X
X
X
 
 
 
70
Couitti Dylan 
FRA
 
 
 
 
X
 
71
Rataud Thomas
FRA
 
 
 
 
X
 
72
Guo Fang
CHN
X
X
 
 
 
X
73
Ye Hao Qin
CHN
X
X
X
 
 
X
74
Huang Hai Yang
CHN
 
 
 
X
X
 
75
Zheng Jia Ming
CHN
X
X
 
 
 
 
76
Shen Yong Fei
CHN
 
 
 
X
X
 
77
Giron Raphaël
FRA
X
 
 
 
 
 
78
Fernandes Santos Bruno Duarte
POR
 
 
 
X
X
 
79
Mohammedhamed Samer Mahfoudh Hassan
YEM
X
 
 
X
X
 
80

Dawm Hassan Gamal Abdo

YEM
X
X
X
X
X
X
81
Mohammedhamed Samer Mahfoudh Hussein
YEM
X
 
 
X
X
 
82
Sherry Mason
USA
X
X
X
 
 
 
83
Caballero Victor

   



PAR
 
X
X
 
X
 
84
Sawangsri Kanchanok
THA
 
X
X
 
 
 

 


JUNIOR MEN

No.
Name 
Ctry
Speed
Classic
Battle
Slides
Jump
Pair 
1
Velikanov Gleb
RUS
X
X
X
 
 
 
2
Morrone Federico
ITA
X
X
X
 
 
 
3
Rosato Roberto
ITA
X
X
X
X
 
 
4
Navratil Jiří 
CZE
X
X
X
 
 
 
5
Van Overloop Hannes
BEL
X
X
 
 
 
 
6
Ménard Nathan
FRA
X
X
X
 
 
 
7
Nicolao Ambroise
FRA
 
X
X
 
 
 
8
Rutard Marius
FRA
 
X
X
 
 
 
9
Rayer Yoan
FRA
X
X
X
 
 
 
10
Ma Pak Hong
HKG
X
X
X
 
 
 
11
Lo Ng Shuen
HKG
X
X
X
 
 
 
12
Chan Man Fung Anson
HKG
X
X
X
 
 
 
13
Wang Jung Hsin 
TPE
X
 
 
 
 
 
14
Xiao Bing Sheng 
TPE
X
 
 
 
 
 
15
Chen Yu Chi 
TPE
X
 
 
 
 
 
16
Elias Yoann 
FRA
X
X
X
 
 
 
17
Amiand Ismaël 
FRA
X
X
X
 
 
 
18
Ngan Ho Lam Brandon
CAN
X
X
 
 
 
 
19
Pan YuShuo
CHN
X
X
X
 
 
X
20
Zhang Hao
CHN
X
X
X
 
 
X
21

Alhowig Moeid Talal M


KSA
X
X
X
X
X
 
22

Othman Ahmed Abdo Saleh


YEM
X
X
X
X
X
X
23

Halaba Ali Abdullah Ali


YEM
X
X
X
X
X
X
24

Durib Khalil Ebrahim Yahya


YEM
X
X
X
X
X
X